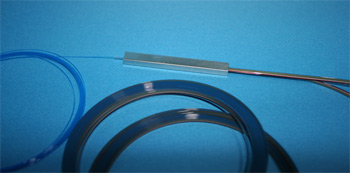 Planar Lightwave Circuit Splitter

Applications:
B-PON / G-PON
Fiber-to-the-Premise­
Fiber-to-the-Home

Features:
Telcordia GR-1221 Compliant
Low Insertion Loss
Excellent Uniformity
Low PDL
Compact
Exceptionally Stable and Reliable
Description:
Go!Foton's PLC Splitters provide high performance with very low insertion loss, excellent uniformity and temperature stability, and low PDL. They are designed for demanding requirements over a wide operating wavelength range (1260 ~ 1650nm) and are GR-1209-CORE, GR-1221-CORE specification compliant.  The splitters are pigtailed with Bend-Insensitive Single Mode fiber (Bend Radius 15mm) to achieve a robust, compact package that is durable for field handling. The splitters are available in 4, 8, 16, 32 and 64 channel configuration with a variety of connector choices.

Wavelength Spectrum: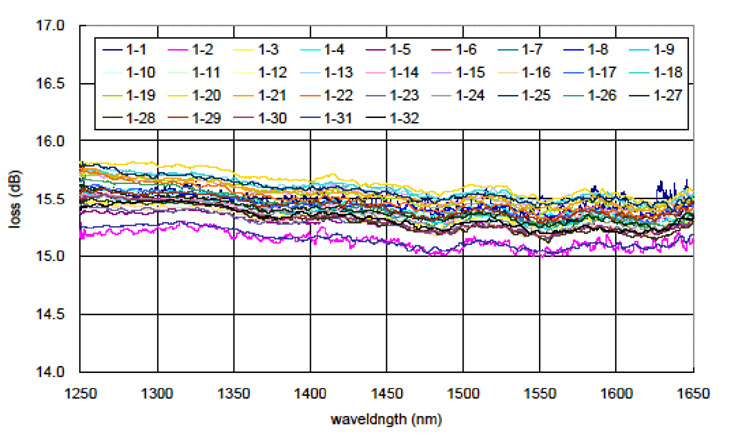 Specifications:
Parameters
Specification
Configuration
1x4
1x8
1x16
1x32
1x64
Coupling Ratio
EVEN
Input Port Number
1
Output Port Number
4
8
16
32
64
Operating Wavelength (nm)
Insertion Loss
@ 1310&1550nm (dB)
<7.5
<10.5
<13.5
<17.0
<20.4
Uniformity
@ 1310&1550nm (dB)
<0.8
<0.8
<1.0
<1.3
<2.0
PDL
@ 1310&1550nm (dB)
<0.2
Directivity
@ 1310&1550nm (dB)
>55
Return Loss
@ 1310&1550nm (dB)
>55
Optical Power Handling (mW)
<300
Operating Temperature Range (oC) *
-40  to +85
Storage Temperature Range (oC)
-40  to +85
Fiber Type
Bend-insensitive fiber, Ribbon
Package Size, (L)x(W)x(H) (mm)
40x4x4
40x4x4
50x5x4
50x7x4
70x12x4
Package Option
; 900um tight buffer (mm)
95x75x9
120x90x9
120x90x16
; 2mm cable (mm)
95x75x9
120x90x9
120x90x16
All specifications are without fiber connectors

Ribbon Fiber Color Code:



Ordering Information: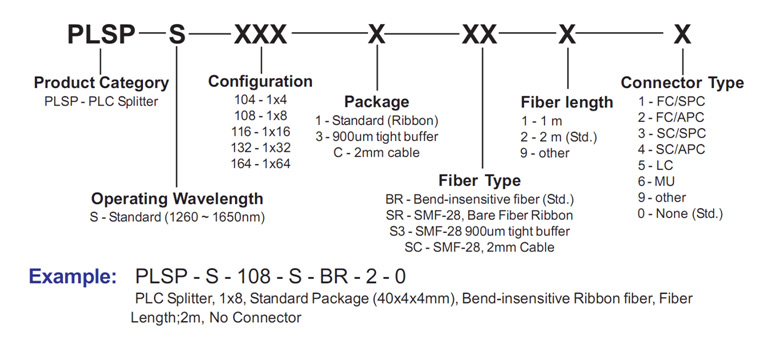 PDF data sheet