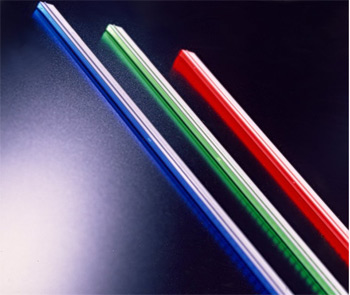 SELGUIDE® by NSG Group
Applications:
Contact Image Sensor (CIS)
Image Scanner
Digital PPC
Facsimile
Features:
High Luminance
Full Color (RGB switching)
High Uniformity
Energy efficient

Description:
Go!Foton provides the NSG SELGUIDE®, a light source for image scanning, developed by NSG based on its proprietary optical technology.  It provides high intensity and uniform light emission with a smaller number of LED's used to achieve low power consumption.  It is the best choice available as a light source for contact images sensors.  The color SELGUIDE® ensures sharp, full color reproduction through sequential switching of ultra-high intensity LED chips in three primary colors.
Specifications Color (R,G,B) standard type:
| | | | |
| --- | --- | --- | --- |
| | | Standard | Bright |
| Power of Illuminance (µW/mm2) | Red | 0.8 | 2.1 |
|                                         typ. | Green | 1.3 | 2.2 |
|                                         If=20mA | Blue | 3.0 | 4.0 |
| Uniformity of Illuminance (%) | Each Color | ≤ 23 | ≤ 23 |
| Peak Wave Length (nm) | Red | 630 | 630 |
|                                         typ. | Green | 520 | 525 |
| | Blue | 465 | 465 |
| Forward Voltage (v) | Red | 2.0 | 2.1 |
|                                          typ. | Green | 3.0 | 3.2 |
|                                          If=20mA | Blue | 3.0 | 3.1 |

Recommended structure of CIS: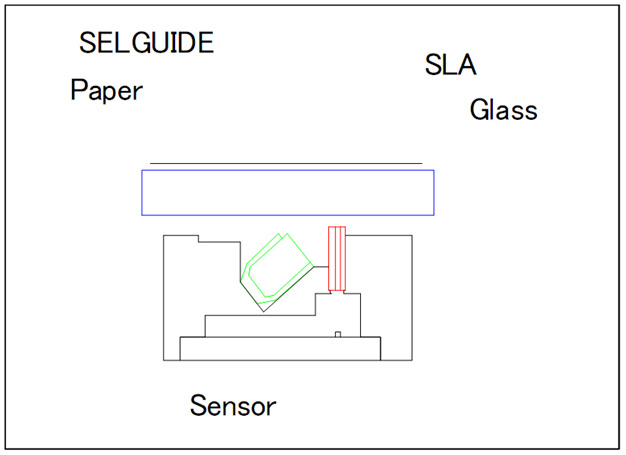 Wiring Instructions: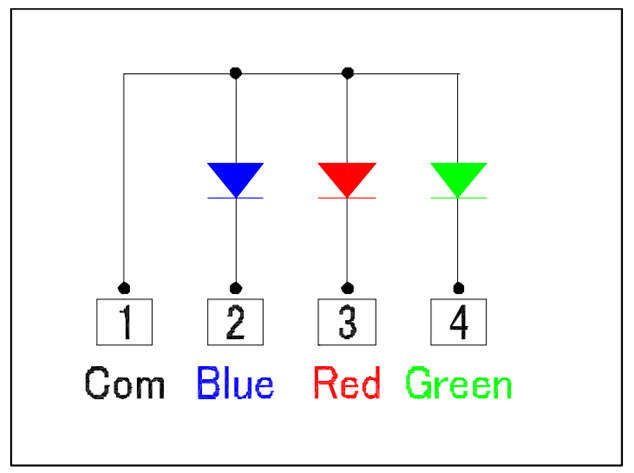 Structure; Standard A4 size: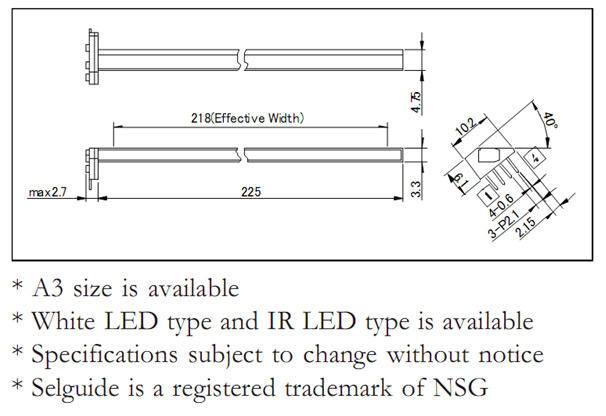 PDF data sheet