1310 / 1550 nm Fused WDM

Applications:
Telecommunications
LAN's
CATV
Metro Network
Subscriber Loop
Features:
High Isolation
Low Insertion Loss
High Directivity


Low Polarization Dependent Loss
Epoxy-Free Optical Path
Bidirectional


Exceptionally Stable and Reliable
Telcordia GR-1221 Compliant
Description:
The Go!Foton 1310/1550nm Fused WDM modules are designed for multiplexing and demultiplexing two wavelengths at 1310 and 1550nm.  These versatile, mux and demux products are based on Go!Foton's Fused Biconical Taper Fiber technology.  This proven technology produces high quality 3-port devices with low PDL, low insertion loss and stable environment performance.
Dimensions: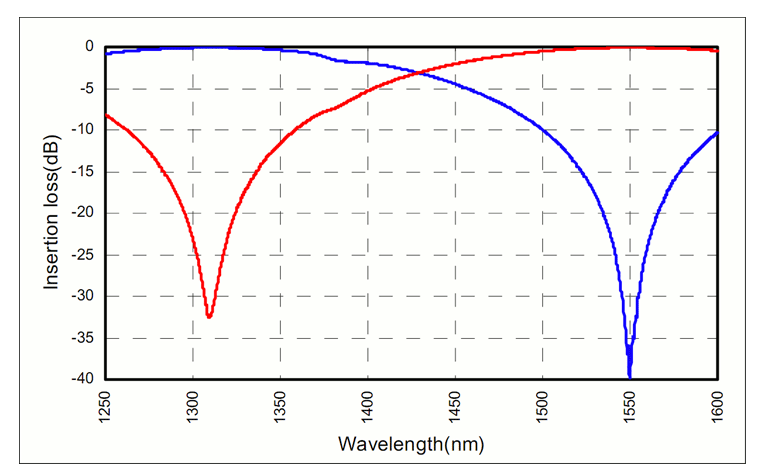 Specifications:
Parameters
Premium
Grade A
Wavelength Range 1310/1550 (nm)
±20
±15
±10
±20
±15
±10
Insertion Loss (dB)
Max
0.5
0.3
0.25
0.6
0.4
0.3
Isolation (dB)
Min
16
17
20
15
16
17
Polarization Dependent Loss (dB)
Max
0.1
0.15
Directivity (dB) 
Min
60
Temperature Sensitivity (dB)
Max
0.15
Operating Temperature (οC)1
-40 to +85
Storage Temperature (οC)1
-40 to +85
Package Dimension (mm)
            SMF-28e or Equivalent
(φ) 3.0 x (L) 54
            900 µm Loose Tube
(φ) 3.0 x (L) 65
            2.9mm Cable
(L) 80 x (W) 12 x (H) 7.0
1  -10οC to 70οC for  Loose Tube and Cable Package

Ordering Information: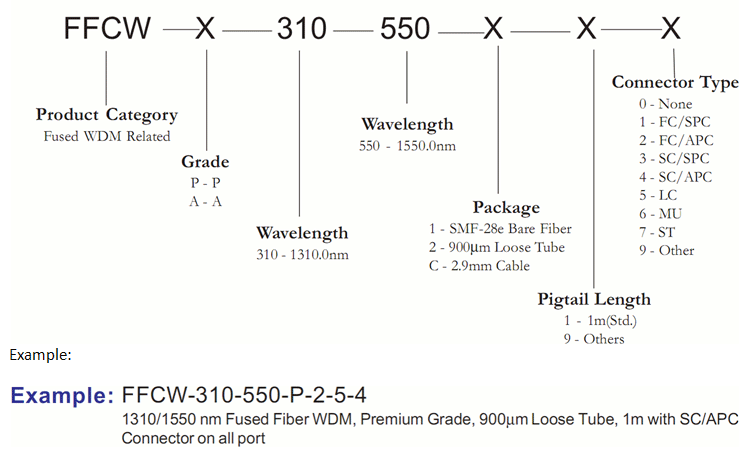 PDF data sheet