CWDM 'OADM' Add/Drop Multiplexer 2x2 (1 Ch), 3x3 (2 Ch), 4x4 (3 Ch), 5x5 (4 Ch)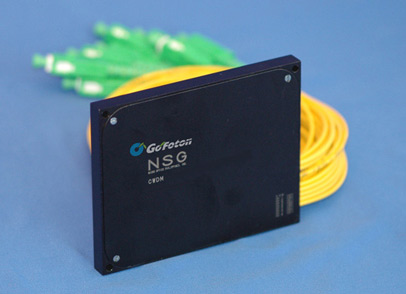 Applications:
CWDM Systems
Metro/Access Networks
Enterprise Networks
CATV Fiber Optic Links
Features:
RoHS 6/6 Compliant
Multi-Channel Add / Drop
Telcordia GR-1221 Compliant
Thin-Film-Filter(TFF) Based
Flat and Wide Passband
Low Insertion Loss
High Channel Isolation
Exceptionally Stable and Reliable
Low Polarization Dependent Loss
Epoxy-Free Optical Path

Description:
Based on Go!Foton's patented technology, SELMUXTM series is introduced to cover all TFF-based components using an all-glass platform for improved performance, such as lower insertion loss and higher thermal stability, with a competitive cost structure. Because of  it's high thermal stability, SELMUX series can offer compliance to Outside Plant (OSP) requirement upon request.
Go!Foton's Coarse Wavelength Division Multiplexing (CWDM) OADMs are based on its unique TFF SELMUX technology that provides a high quality CWDM device with high channel isolation, low polarization dependent loss, flat and wide passband, and stable environmental performance.  Go!Foton's TFF SELMUX products are epoxy-free in the optical path and are in compliance with RoHS 6/6.

Specifications:
1 Ch. OADM
2 Ch. OADM
3 Ch. OADM
4 Ch. OADM
Port Configuration
2x2
3x3
4x4
5x5
Operating Wavelength Range (nm)
1460 ~ 1620
Center Wavelength (nm)
1471.0, 1491.0, 1511.0,  1531.0, 1551.0, 1571.0, 1591.0, 1611.0
Add/Drop Channel Max. Insertion Loss (dB)
<0.9
<1.5
<1.9
<2.3
Express Channel Insertion Loss (dB)
<0.9
<1.8
<2.4
<3.2
Add/Drop Channel Ripple (dB)
<0.5
Drop Channel Isolation (dB)
        Adjacent Ch.
>30
        Non-Adjacent Ch.
>45
Add Channel Isolation (dB)
        Adjacent Ch.
>15
        Non-Adjacent Ch.
>30
Express Channel Isolation (dB)
>24
Polarization Dependent Loss (dB)
<0.2
Optical Return Loss (dB)
>45
Directivity (dB)
>55
Optical Power Handling (mW)
<500
Operating Temperature Range (oC)
0 to 70
Storage Temperature Range (oC)
-40 to 85
Fiber Type
SMF-28e or Equivalent
Fiber Length (m)
> 1.0
Package Size (mm)
Standard:  (L)95 x (W)75 x (H)8
All specifications are without fiber connectors.
* Center Wavelength in Shortband (1270, 1290, 1310... or 1271, 1291, 1311..) are available upon request.
* LGX Box / 19' Rack Packaging option is available upon request.

Ordering Information: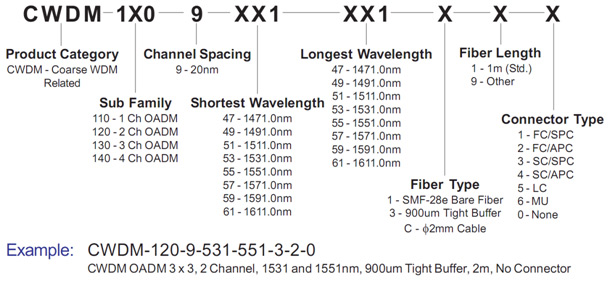 Printer friendly PDF version